Roof Cleaning New York
Serving our customers since 2003, we have set the standard in the Upstate New York Region for professional low pressure roof cleaning and property cleaning. We use detergent, knowledge and skill to provide our customers with the best possible results. We are NOT a high pressure splash and dash cleaning company.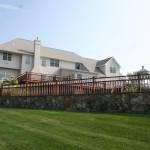 High pressure cleaning to your roof will cause unnecessary damage. Use a company that is well versed in the art of low pressure roof cleaning. Call us today for you project assessment and estimate.
Pressure Washing Services provides low pressure detergent soft washing for all types of roofs.
Our special equipment allows us to safely clean a roof from the ground. We follow the recommendations of ARMA (Asphalt Roof Manufactures Association) and GAF (the largest North American manufacture of commercial and residential roofing) for cleaning shingles.Our process employs a low pressure cleaning that is safe for your roof. With our from the ground technique and special detergents, we can make those black streaks disappear.
Don't replace – RESTORE!  
And the best part… all for a fraction of the cost of a new roof!
[RSSImport display="5″ displaydescriptions="true" feedurl="http://pwscleaning.com/feed/"]