Roof Cleaning Cincinnati Ohio
Over The Top Roof Cleaning
offers safe, NO-PRESSURE roof cleaning in Cincinnati, Ohio and surrounding areas.
We are the experts when it comes to cleaning those unsightly black streaks that are ruining your curb appeal.
Typical residential roofs can be cleaned in a matter of hours, and the results are immediate!
Call today for a free, prompt, no-hassle estimate: (513) 341-8444
Over The Top is:
Fully Insured
Professional And Courteous
Committed To Performing Quality Work
Prepared For Jobs Of Any Size
Keeping your roof clean and in good condition is just as important as other home maintenance issues like deck cleaning and fireplace chimney cleaning. Most people wouldn't dream of letting soot and crud build up in their chimney, but it might surprise you to know that occasional roof cleanings are just as vital, if not more so. It will protect your roof and ultimately save you an enormous amount of money in the long run. Rest assured that we adhere to the shingle cleaning standards and methods provided by ARMA (Asphalt Roofing Manufacturers Association).
If you're wondering how much a home's curb appeal can be improved with a professional roof cleaning, then take a look at our before and after pictures. Imagine pulling into your driveway every day and seeing a beautiful, new-looking roof instead of those black streaks that are a neighborhood eyesore.
You can visit our gallery images here: Over The Top Roof Cleaning Before and After Pictures
Since 2009, Over The Top Roof Cleaning has used aerial images to provide estimates to our customers. There are several factors that go into a roof cleaning estimate and all can be analyzed from a computer.  The price we quote you over the phone is what you will pay when we complete.
Customer Service
Harnessing Technology to save you $ money. Our company uses ServiceM8 to manage your exterior cleaning needs from initial call to job completion. Our field tech's are mobile dispatched and have complete access to your work order. You can add or remove services on the spot and your quote, work order and invoice can be updated instantly. In addition, you can sign off on the completed service and pay by credit card right at your front door.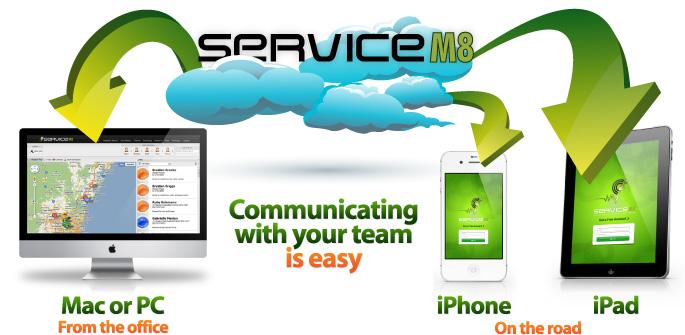 Call us today for a professional roof cleaning
513-341-8444